Arthur Firstenberg (2020)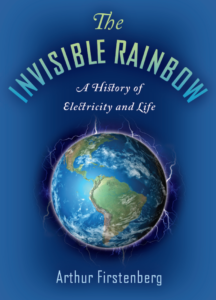 The Invisible Rainbow: A History of Electricity and Life
Over the last 220 years, society has evolved a universal belief that electricity is "safe" for humanity and the planet. Scientist and journalist Arthur Firstenberg disrupts this conviction by telling the story of electricity in a way it has never been told before―from an environmental point of view―by detailing the effects that this fundamental societal building block has had on our health and our planet.
In The Invisible Rainbow, Firstenberg traces the history of electricity from the early eighteenth century to the present, making a compelling case that many environmental problems, as well as the major diseases of industrialized civilization―heart disease, diabetes, and cancer―are related to electrical pollution.
ISBN-13: 978-1645020097
Anne Mills (2019)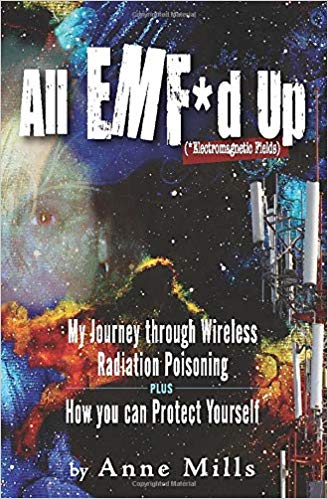 All EMF*d Up (*Electromagnetic Fields): My Journey Through Wireless Radiation Poisoning plus How You Can Protect Yourself.
Do you suffer from insomnia, headaches, vertigo, nausea, heart palpitations, body aches or sporadic flu symptoms? These are all indications of exposure to electromagnetic field radiation (EMF). Cell phones, routers, WiFi, cell towers, 5G and all things wireless emit EMF, which can make people ill with a permanent malady called electromagnetic hypersensitivity (EHS). Persons of all ages are being affected in ways in which most United States physicians are not yet familiar. In this two-part book, Anne Mills tells her first-hand account of EMF poisoning in 2006 and the ensuing government involvement and threats. Anne then shares experiences in:
• recovery guided by European physicians
• protection from wireless radiation and Safe Travel
• shielding home and building Faraday shelters
• diagnosis, Americans with Disabilities Act and Social Security Disability
• how to survive in a world that is All EMF*d Up
ISBN-13: 978-1733950701
Camilla R. G. Rees (2017)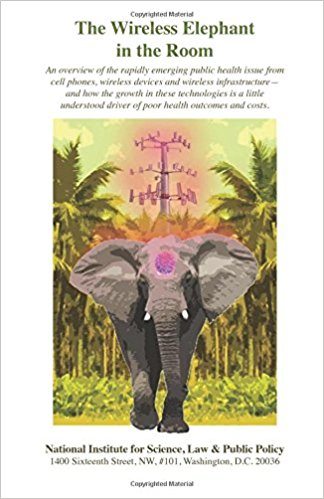 The Wireless Elephant in the Room: An overview of the rapidly emerging public health issue from cell phones, wireless devices and wireless … driver of poor health outcomes and costs.
The Wireless Elephant in the Room concisely conveys the well-established risks from cell phones and wireless technologies, the tremendous biological stress that acute and chronic exposures create, especially to children, and the big plans wireless companies have to blanket us even further in this inescapable, harmful radiation throughout our homes and neighborhoods, and even from space, all the while deliberately addicting us to electronic technologies and driving up health costs.
The author, one of America's leading health advocates, expert in the biological and health effects of electromagnetic fields, asks, "Why should we, in essence, be agreeing to be the collateral damage of the wireless industry's misguided values that are damaging humans, animals and nature, and especially children, on an unprecedented scale, for their commercial gain?"
The Wireless Elephant in the Room is a highly informed synopsis of society's new public health predicament and a powerful contribution to public education on this topic. It is chock full with research citations and quotes from leading scientific experts, including from Harvard, Columbia, Yale and other universities.
The Wireless Elephant in the Room is a 'must have' for couples hoping to conceive, expectant mothers, parents, teachers, school administrators, employers, health insurers, social workers, psychologists and psychiatrists, and everyone with a chronic illness, including cancer patients, and their doctors. No one taught doctors about the biological and health effects of electromagnetic fields in medical school. It is a new public health issue. Best to give them all copies.
Sometimes the solution to a mysterious or never-resolving health problem (including learning problems) can be as simple as using technology in a safer way. Learn what conditions have been linked to wireless radiation, where you can go for help to measure and minimize exposures, and how to quickly get further up to speed on the basics of safer living in a wireless world.
Start with The Wireless Elephant in the Room and begin the process of empowering yourself to proactively protect health. Big Brother is not looking out for our best interests, as it also did not with tobacco, asbestos, glyphosate, lead paint, DDT and more. We need to learn and spread the truth about this subject at the grassroots among health conscious Americans. The Wireless Elephant in the Room is a quick read and riveting.
ISBN-13: 978-1542431347